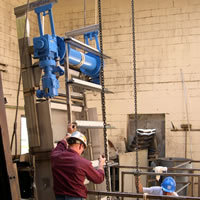 Equipment Plus, Inc. has been providing leading edge technologies & solutions to Florida's water and wastewater industries since 1987.
The manufacturers we represent offer a wide array of solutions and process improvements to meet current industry standards. Our manufacturers provide equipment and processes that have high quality, reliability, and performance.
Our lines are often combined on the same project to offer our clients continuity. For instance a sludge dewatering rotary press can be combined with a biosolids processing system to provide a complete package for converting sludge in liquid form to Class A.
We have sales offices strategically positioned throughout Florida. Each office is staffed by experienced personnel who can help you with design recommendations and equipment selections. Our objective is to guide you toward economical solutions for your expansions or replacement of problematic equipment.
Mechanical
Barscreens
Odor
Control
Potable & Reclaim Pump Stations
Sludge
Dewatering